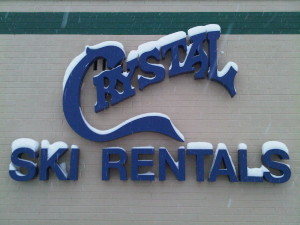 Mission:
Our independent, family owned and operated, business has been serving Boulder and the surrounding communities of Lafayette, Louisville, Longmont, Superior, Erie, and beyond since 1976. We offer the largest inventory of well-maintained, current-model rental equipment, careful and courteous service, convenient and plentiful parking, and reasonable rates.
A little about Justin:
Crystal Ski Shop helped develop my love for winter and skiing when I got my first pair of seasonal rental skis here as a kid. I actually got to meet Tony Martinez years later through Trinity Lutheran Church, shortly after which he gave me a job as a rental technician. Throughout the next few years Tony's passion for the Crystal Community wore off on me while I finished up my schooling at CU. In the summer of 2009, Tony asked me if I would be interested in taking over at the shop. I'm honored to continue the wonderful tradition of Crystals as a locally owned family business with an outstanding reputation for customer service. With the help of the Martinez family, I'm learning everyday and enjoying every minute of it. It's been an incredible journey so far.
Between Jenna, my sister, working at the shop, my grandfather keeping me on top of all things business, my parents providing guidance and support, and so many more, Crystal Ski Shop is truly a family run shop. Thank you to all my friends and family and everyone who's supported me and Crystals.
Sincerely,
Justin
Friends of Crystals and Other Favorite Local Businesses:
McGuckin Hardware Store
Colorado Wilderness Rides and Guides
Boulder Bike Smith
Burger Property Investments
Ligas Flies
Boulder Beer
Bookmark this Website! We'll continue to add valuable coupons, informative articles and links to websites to help make your snowsport experiences more enjoyable.
Pray for lots of snow!