Your purchase helps support our employees!
No need to come in person; call to book packages by phone: (303)449-7669
After material and overhead costs, all proceeds from these pre-booked sales will go towards keeping our staff employed. Thank you for your support.
Save
$20 OFF
per package for signing up now for next winter! Additionally we are
including a $20 Gift Certificate
to be used on Merchandise Accessories or Tuning Services at no extra cost! This is a gift to you as a thank you for supporting the shop and our employees.
Junior Economy Ski or Board Package…………

   $90 

Junior Sport Ski or Board Package………………..

$105

Junior Demo Ski Package……………………………….

$150
Adult Economy Ski or Board Package…………..

$150

Adult Sport Ski or Board Package…..……………………………..

$170

Adult Demo Ski or Board Package…………………

$225
If you've already booked a package for next season, we're attaching your Gift Certificate to your form on file. Thanks so much for your continued support.
*Packages Include Boots,Skis(Board) and Poles. Individual equipment rental options available too*
**Discounted Prices and $20 Gift Card Promotion valid through May 2020.**
You can book and pay over the phone are stop by in person.  Individual pieces are available if you don't need the full package that includes boots, skis/board, poles.  Call for details.
It Makes Sense
Consider the convenience and savings of renting your ski or snowboard equipment in the fall, keeping it for the season, and returning it next spring. For a low, one time charge, you can have peace of mind; no waiting, no picking up equipment the morning of, and no risk of the shop running out of equipment. Every package comes with skis, boots and poles or a board and boots. Retail value for either of these sets would be between $700 and $1700+, which makes renting a great deal for anyone! Seasonal rentals are appreciated by parents who don't want to invest an arm and leg for junior equipment that the kids just grow out of in one season or less!
How It Works
Come into the shop, and we will fit you up, adjust your bindings, and provide you with clean, freshly tuned equipment that is ready to ski or snowboard! You may come in, anytime during the season, and exchange your equipment for different sizes, different brands, or different styles from our seasonal inventory at no additional charge (based on availability of equipment and sizes).
Ideal for Growing and Improving Kids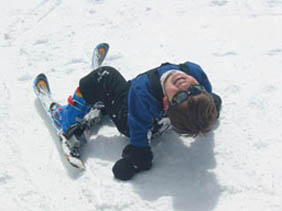 Many parents realize that buying new equipment every year becomes overwhelming when a child is constantly growing; physically and in ability. It is often impossible, and costly, to keep up. Crystal Ski Shop has an inventory of hundreds of skis, boots and poles for kids of all sizes and abilities. After 33 years of seasonal rentals, we have created a program that offers the highest quality equipment, with the most options for parents and kids. Here's how it works: Come in with your child and we will fit him or her with equipment that fits, has been safety tested, and is fully tuned and ready to ski! Over the course of the ski season, you can come in anytime to trade sizes, lengths and styles of equipment at no additional charge (based on availability of equipment and sizes). It is common for a youngster to grow three sizes in one ski season! If you have plans for ski school or ski programs, it becomes very cost-effective and hassle free to rent for the season. Come in and we will show you the high quality equipment and service we provide!
The Deal Gets Even Better
Seasonal customers also receive a special discount card for unlimited discounts on: 50% off weekday rentals (holiday blackouts apply)  and 20% off anytime of daily rentals of skis, snowboards, snowshoes, XC skis, AT ski packages, etc., 20% off ski repair and tunes and 10% off all merchandise. These discounts can be enjoyed by the renter and family members.