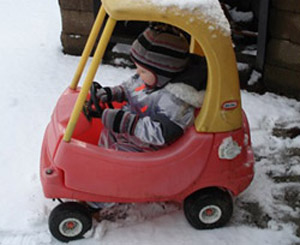 It is not uncommon for travel conditions around our state to vary significantly, not only between the plains and the mountains, but literally from mile to mile on the same road.
At times temperatures can hover in the fifties near Denver while snow is falling a short 30 minute drive west of town. High winds across the plains can limit visibility during snow storms or shaded areas on mountain and canyon roads can present icy conditions on otherwise dry highways. Although uncommon, Colorado has even had snow in the higher elevations on the 4th of July! All of these factors make Colorado a distinctive place to drive during the winter.
In an effort to minimize the effects of Colorado's special weather and road conditions, reduce the number of travel delays and in a proactive approach to fighting air pollution, Colorado has implemented intensive public information campaigns, adopted strict chain guidelines for Commercial vehicles and begun widespread use of alternative de-icing compounds.
The CDOT Winter Driving Initiative is a comprehensive safe driving program designed to educate motorists in Colorado regarding winter driving conditions. The Winter Driving Initiative focuses on providing information and answering questions in four areas: Road treatments, snow removal, road conditions, and winter driving preparedness. By providing a single source of information in these areas, CDOT hopes to raise awareness of winter driving issues and help keep Colorado roads safer in the winter months.
Here are some helpful hints for traveling on Colorado's roads this winter:
1.   Always keep the top half of your gas tank full. It can give you better traction and gives you a bigger margin of error if you get stuck and have to keep the engine running periodically to keep warm.
2.   If you are stuck in a serious storm do not leave your car. Run the engine periodically and wait for help.
3.   Carry blankets, water, a flashlight, a shovel, some nutrition bars or even candy bars for sustenance.
4.   Remember that 4-wheel drive does not mean 4-wheel stop. A four wheel drive vehicle will not stop any better on sheer ice than a 2 wheel drive vehicle.
5.   Be sure of your route. Don't go exploring in the back country without some local knowledge, especially during a storm or when one is bearing down anywhere near your location. The weather can change quickly and violently in the Rocky Mountains and not necessarily only in the heart of winter.
6.   Be sure you have good tires. The Colorado state patrol recommends at least 1/8 of an inch tread depth. All season radials on a front-wheel-drive passenger vehicle are adequate for most situations. Snow tires on most rear wheel drive vehicles are usually adequate. Chain restrictions in Colorado are most often put into effect for commercial vehicles (semi's) and usually do not affect passenger vehicles.
7.   In poor visibility or even white-out conditions, don't drive faster than you can see ahead. High speeds in poor or no visibility can lead to large chain reaction accidents. Remember you can't see around mountain curves and corners either.
8.   When you park at a ski area, keep in mind an exit plan, especially if there is a lot of snow falling and there seems to be more cars coming behind you to park in the lot or along the road.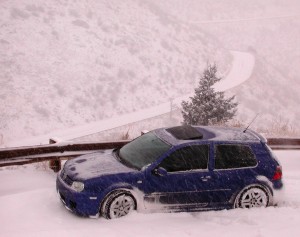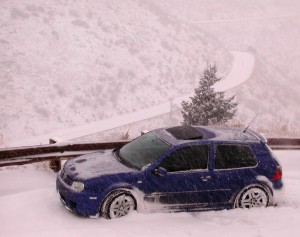 Please visit the CDOT website for current road conditions, travel advisories and road closures. This is a VERY helpful and powerful website: 
Current Colorado Road Conditions for mobile device