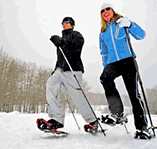 All good things must come to an end….including Winter.
This weekend (5/5 and 5/6/2018) is your last opportunity to rent Snowshoes and Cross-Country(XC) Skis until next Fall.
There's plenty of snow left in the mountains, but it's going fast.
Get out to enjoy it one more time before breaking out the bicycles and roller skates.