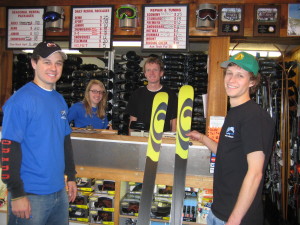 Crystal Ski Shop is Hiring for the Holiday Season and the rest of Winter 2017-18! We're looking for friendly and helpful people with a passion for the outdoors. Part time and Full time positions available. Must be available weekends and holidays. Duties include assisting customers with rentals, processing equipment returns, cash register, and more.
We are open during the winter for 7 days a week from 7:00 am to 8:00 pm including all holidays. We are looking for people to start immediately and can be flexible with schedules.  Position starts at $11/hour.
Please send your resume and our application-for-employment-form to justin@crystalskishop.com.  Please be sure to include your work experience and references, as well as a short description of any relevant experience and why you think you'd be a great addition to our team.
Click here for application pdf.
Crystal Ski Shop is an Equal Employment Opportunity Employer.